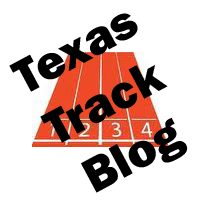 Lots of up-to-date news and comments about the sport, both in Texas and around the US and the world. Updated all the time and definitely worth checking out!

Constant Twitter updates from meets, latest news, interesting observations, and my general thoughts on the sport and all that is happening
Camps and Clinics
Opportunities for improvement and education
Results from 873 meets including TAPPS State Meet, all 24 UIL regions, and 233 district/area meets posted so far this season - more than anywhere else!
518 cross country meet results posted (including complete regional results and 157 district meets)!
Results from more than 900 meets from the 2014 track season
Complete regional results and 252 district/area meets posted
Results from 858 meets from the 2013 track & field season were posted including
UIL and TAPPS State Championships, all regional results and 219 district/area meet results
Twice as many cross country results were posted than anywhere else in 2013!
Subscribe to keep up with what's happening all over Texas.
Besides more results than anywhere, subscribers get:
Photos and Video and On-Site meet reports
All-Time Track & Field Performance Lists
Track & Field State Records
And more...